---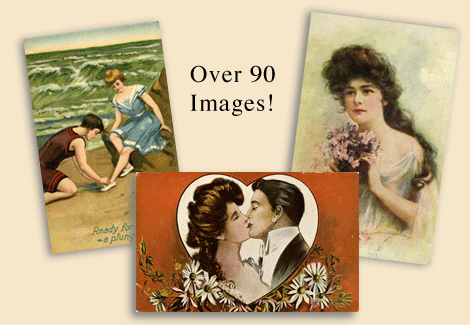 Announcing a Brand New Product!
For lovers of the romance and beauty of the Edwardian Era...A 1912 Screen Saver!
This screen saver will delight you! It will turn your computer into a time travel device--sure to bring a warm smile to your face each day! Purchase the Screen Saver for only $12!
This wonderful screen saver package includes over 90 beautiful images, colorful, romantic images from 1912...photographic and artistic renditions by famous artists of the day, of beautiful women and romantic couples, enjoying themselves in all seasons...the genteel lifestyle and gentle humor of the era depicted with style and grace. Each image has been hand-selected for this sojourn into the past, to be savored by all who yearn for a simpler, slower and sweet lifestyle...
Once you have purchased the Screen Saver, we will email you a link to the download site, and the registration key that unlocks the software.
Compatible with Windows 95, 98, NT, 2000, XP. We haven't tried it on Windows Vista, but it should work fine.
$12 - Please note that even though the cart system will show a shipping charge, you will not be charged for shipping for this item. It's a free download after purchase.
---