It was the brightest moment yet for INSITE, The International Network of Somewhere In Time Enthusiasts! The unveiling and dedication of Christopher Reeve's Star on the Hollywood Walk of Fame, (the most famous sidewalk in the world) April 15, 1997. Our dream to honor Chris in such a permanent and public way finally came true!

Since the fall of 1994, right after Chris returned to Mackinac Island to celebrate the Somewhere In Time Weekend with us, we decided this would be a worthy project to add to our agenda of upcoming events, right after we celebrated the 15th Anniversary of Somewhere In Time, which was held in Los Angeles on May 13, 1995. Just weeks before that special day, we inquired of the Walk of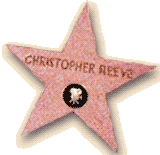 Fame Committee if Chris had been so honored already and were delighted to find the way was clear for us to proceed. But in the few short weeks between the time that we inquired and the day we actually nominated Chris by submitting our application, the fee had gone up from $5,000 to $7,500. We were disappointed, but undaunted, knowing it would just take a little longer to accomplish our goal. The tragic injury Chris suffered on May 27, 1995 would only serve to intensify our desire to make it happen, while we unfortunately realized that the timing of our tribute might be thought of as a sympathy gesture by the uninformed public. INSITE is particularly enamored with Somewhere In Time, yet Chris' impressive body of work thus far, and his world renowned humanitarian efforts made him so deserving. We all felt this recognition of Chris' career achievements to be long overdue. The total of funds collected was over $10,200 which made possible the afterglow party and the commemorative program, which all 200+ donors will soon receive. It is unusual for a fan organization to purchase a Star for a celebrity, because they are more often sponsored by studios, to coincide with a release of a film, or sometimes by the star's own publicity machine.
Jane Seymour and Glenn Close were our two selected speakers, and 55 INSITE members flew in from all over the country to be present for the dedication ceremony at 10 am, with an "afterglow" reception held in the Cheers Bar set, located in the Hollywood Entertainment Museum, which so happens to be the prestigious address for the Star INSITE purchased (one block from Mann's Chinese Theater). Also joining us were SIT celebrity guests Bill Erwin (Arthur), John Alvin (1912 Desk Clerk), Isadore Mankofsky (Director of Photography), Jeff Gourson (Editor), along with Dick Donner (Director of Superman films), Marc McClure (Jimmy Olson), Lynn Stalmaster (famous Hollywood Casting Director), Jack Larsen (Jimmy Olson of the Superman TV Series) James Keach (actor, director and husband of Jane Seymour) and of course, Bill Shepard, founder of INSITE.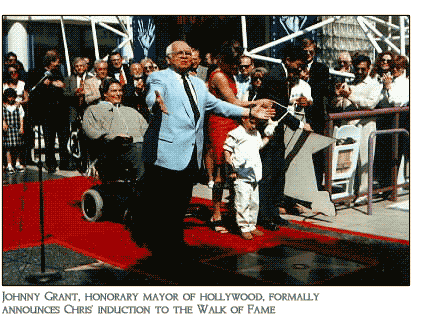 Johnny Grant, "Honorary Mayor of Hollywood" was the master of ceremonies, and introduced Chris to the cheering crowd-one of the largest ever for a Walk of Fame dedication. We even had to arrange to close Hollywood Boulevard. by obtaining a permit from the Los Angeles City Council. Jane gave a lovely, moving speech right from her heart, beginning with the words, "I love this man," and closing with "there isn't a day I don't think about him, and there isn't a day that (turning toward Chris) you don't inspire me." Glenn Close, who has known Chris for about 20 years, lives right near him back east, and has just starred in his directorial debut movie, 'In the Gloaming' for HBO, gave her speech from notes she'd written, eloquently describing the special man we all admire for so many reasons. Chris' wonderful wife, Dana, and four year old son, Will, stood next to Chris in the hot sun during the 45 minute ceremony-quite a task for a little one-and then young Will pulled up the cord to reveal the star. It was particularly charming when Will touched Chris' name on the replica plaque they get to take home to grace their wall as a reminder.
Chris then delivered a warm acceptance speech, acknowledging Bill Shepard and INSITE by saying, "this star is a testimony to staying power, to fans who stuck by me over 17 years, through thick and thin" and said this is a "dream come true." He closed by saying, "One last thing. If we give our scientists the funding they need for research, one day very soon I will take my family by the hand and stand in front of this star, on the Hollywood WALK of Fame." After being moved into the shade he gave a short press conference to the dozens of reporters present and then it was party time!
When I spoke with Chris, he told me that he reads "every issue" of our INSITE newsletter "cover to cover", and he asked for the details of how we raised the funds, indicating his deep interest in our efforts. To quote him from our '94 Mackinac video regarding his feelings about SIT he said, "This film holds the number one spot by the fireside in my heart" and about our devotion to the film despite what the pundits had to say about it, "it moves me more than you can know". I wholeheartedly believe that the fact the Star came from us made it even more special to Chris, and I will repeat what I said to him the previous night, at the premiere of In The Gloaming, "Chris, thank you so much for allowing us to honor you this way."
Let it be known that the entire ceremony as well as coverage of the INSITE party was videotaped by Jim Addie of AddieTech, (producer of the four SIT Weekend Videos available elsewhere on this website) and yes, there will be a documentary video of this marvelous event, available to fans in a few months. To be able to see and hear the entire occasion will be a treat not-to-be-missed! So watch this space for further details. There will be a special offer for pre-production orders to help us cover the exorbitant costs.
Hope you enjoy our photo gallery!
All photos taken by Jo and Jim Addie