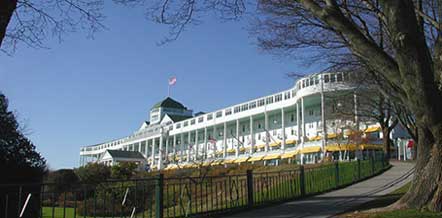 Reservations are already being taken for the next Somewhere In Time Weekend at Grand Hotel, October 29-31, 2004. Over 100 rooms have already been reserved!
---
Step back in time and learn more about Grand Hotel during this exciting and nostalgic weekend honoring the classic movie, Somewhere In Time starring Jane Seymour and Christopher Reeve, Somewhere In Time is one of several movies featuring Grand Hotel as its backdrop.
During your stay enjoy a special screening of the movie. Guests will also have the opportunity to meet members of the cast and crew, tour locations where scenes were filmed, and attend panel discussions and informative lectures.
Package Includes:
Accommodations
Full breakfast and five course dinner daily
Thursday: Welcome Reception
Friday: Mackinac Reception
Saturday: Grand Luncheon Buffet
Saturday Evening: Grand Cocktail Reception
Special showing of "Somewhere In Time" Thursday and Friday evenings
Half-off golf greens fees on The Jewel
Gratuities and baggage handling charges
Special discount on ferry boat tickets
Subject to Michigan 6% sales tax. Package price: $915.00 per couple / $815.00 single / $299.00 third person. Stay Thursday, October 28 at $99.00 per couple or single.
For reservations or more information on this package call 1-800-33-GRAND (800-334-7263).
Dates for the 2005 SIT Weekend won't be announced until the Saturday of the 2004 Weekend, when the hotel slips a letter under everyone's door. The first 50 who reserve are guaranteed a lakeside room. There is always a rush to the desk to reserve. By the time the Weekend was over last year, over 100 rooms were already booked.
You can call Grand Hotel at that time, and make a reservation then. Mark your calendar!
October 30 would be the first day you could call and reserve.