Membership Details
The International Network of Somewhere In Time Enthusiasts
Our elegant 20+ page magazine is the most elaborate publication ever produced by a fan society. All memberships run for the calendar year in which you join. This makes it easier for us to keep track, as we are volunteers.
Membership fee is $19.12, by mail, in U.S. funds. (There is a $2.00 service charge when joining online.) You will receive all 4 Quarterly Issues for that year.
For example, if you join mid-year, you would receive any issues you've missed, and any upcoming issues, plus membership card, and color commemorative. Memberships expire after the Fourth Quarter issue is received (see publication schedule). We include one reminder for renewal, a membership renewal form with 4th Q issue.
After the publication of the Fourth Quarter issue of a year, that year goes into 'back issues' status. (Back issues are available for $17.00 per year. All Back Issues are available, back to our first year, 1990.
If you join early in the year, (Jan.- Mar.) you will receive only a welcome letter, until First Quarter issue is published in April. We suggest ordering Back Issues so you'll have plenty of great material to enjoy until then!
Publication Schedule
We publish the most elaborate and elegant publication ever produced by a fan society. Since all work with INSITE is done by volunteers in available free time, we don't keep a strict publication schedule. Check the time frame below for when to expect issues:
First Quarter - Spring (April)
Second Quarter - Summer (between June and July)
Third Quarter - Fall (between September and October)
Fourth Quarter - Winter (January) (we find this is best due to heavy mailing volume around the holidays)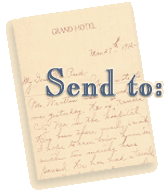 INSITE
8110 South Verdev Drive
Oak Creek, WI 53154
USA