---
---

The New DVD of Jane Seymour's participation in the 2015 SIT Weekend is now available!
Another in the series of SIT Event DVDs (in the on-line Collectibles shop)
See Details and Order HERE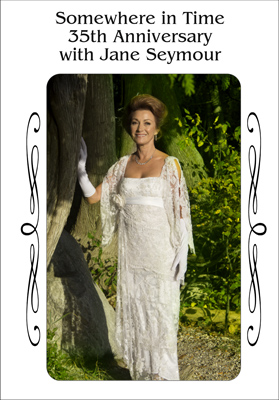 Reload this page to see the latest news and images.



Jane Seymour visits the "Is It You" trees.

"Hey, have you heard Jane Seymour is coming to the SIT weekend?"

5:23 pm Thursday, October 15, 2015

After signing autographs for over an hour, Jane had dinner and then introduced the film.

Jane and her best friend Cheri Ingle went to great lengths to have the white "Man of My Dreams" soliloquy dress reproduced,
indicating just how much Jane wanted to be with us and fully participate. Her appearance in the gown wowed the audience.
It was like being with "Elise" as well as Jane Seymour!

INSITE President and SIT Extra, Jo Addie, presented Jane with an award commemorating her visit for 35th Anniversary of the film and the 25th Annual SIT Weekend.

Jane with Isidore Mankofsky, ASC (SIT Director of Photography)

Allen and Linda Schuh with Jane

SIT Scene Re-enactments - 2015


SIT Celebrities after having received their Pocket Watch "Awards" in honor of the 35th Anniversary
from the INSITE Fan Society: Mike Orefice, Mary Ann Biddle, John Unsinn, (Jo Addie, INSITE President),
Burt Bluestein, Jeff Gourson, Sal Camacho - in the theater, Saturday night.


Sean Hayden, "Young Arther", at the autograph table


John Unsinn (Boom Man) and Mary Ann Biddle (Set Decorator)


Dan Dewey (Location Manager) - leader of the Location Tour, Saturday Morning


JoBe Cerny, "Second Day Desk Clerk", in the dining room. (JoBe is the voice of the Pillsbury Dough Boy)


Mr. and Mrs. Delano


Rita Smith, Lonna Miller, and Jo Addie


Diane and Steve McNeill


The Burkes and the Hubertys

Reload this page to see the latest news and images.
---
Somewhere in Time Played on Big Screen at Historic Redford Theater, Detroit
Jo Addie Hosted
February 2015
See the photos, and listen & watch interviews here

---
---
Somewhere in Time - The Musical - News
The Portland, OR Premiere was Great! See our pictures here!

Watch the Premiere Interviews from Artslandia!


Review by Bill Shepard
Portland Center Stage Theater
Producer Ken Davenport - Radio Interview with Dmae Roberts on Stage and Studio on KBOO
Hear It Now!
---
Richard Matheson Passes Away at Age 87
Somewhere in Time Family Joins Matheson Family in Mourning the Loss of this Marvelous Man
We have lost our beloved Creator of Somewhere in Time (both novel and screenplay), Richard Matheson. He has been battling health issues for several years. He died at home, surrounded by the people and things he loved, at 87.


Photo: Jo Addie

Richard was not only a highly respected, gifted writer, but a kind, loving, wise, funny, thoughtful, mellow and unassuming man. And by all constant reports for decades, he was also an exceptional father. In fact, rarely have adult children expressed such overt love and affection toward their father as the Matheson children always have?and this is perhaps the most wondrous tribute to him of all.

Richard Matheson joined us for two Somewhere in Time Weekends at Grand Hotel and both Los Angeles Somewhere in Time events, for 15th and 20th Anniversaries. (SIT Event DVD #4)

FAN TRIBUTES YOU SHOULD SEE

There are many tributes flowing about this legendary writer of science-fiction, horror and of course, the love story we all hold dear?most of the stories about his passing did not include mention of Somewhere in Time, but these two do:

http://t.entertainment.msn.com/i-am-legend-novelist-richard-matheson-dead

http://www.usatoday.com/story/life/books/2013/06/24/richard-matheson-obituary/2453905/

Somewhere in Time Musical producer Ken Davenport wrote this moving remembrance:
http://www.theproducersperspective.com/my_weblog/2013/06/i-hope-you-all-work-with-someone-like-richard-matheson.html


I include here a marvelous tribute written by Steve Vertlieb, who was one of the only 'critics' to write a Positive review of Somewhere in Time, back in 1980:

"Richard Matheson was one of a small handful of science fiction/fantasy writers whose profound, subtle prose elevated the genre to sublime eloquence. He was one of my very favorite writers from childhood until the present. Along with Lovecraft, Bloch, Bradbury, Clarke and, more recently, James Herbert, these writers influenced my life more significantly than I will ever be able to adequately impart. He was a poet who was blessed with the gift of imagination. I had the honor of meeting him once very briefly in Crystal City, Virginia, at Forry Ackerman's 1993 Famous Monsters convention. We both shared a long friendship with Robert Bloch. One of my proudest possessions is a photograph taken of the three of us at that wonderful convention. His sensitivity and grace dwelt in the ethereal, as evidenced by the haunting vocal soliloquy voiced by Robert Scott Carey during the unforgettable final moments of "The Incredible Shrinking Man..."

"I looked up, as if somehow I would grasp the heavens. The universe, worlds beyond number, God's silver tapestry spread across the night. And in that moment I knew the answer to the riddle of the infinite. That existence begins and ends is man's conception, not nature's. And I felt my body dwindling, melting, becoming nothing. My fears melted away, and in their place came acceptance. All this vast majesty of creation, it had to mean something. And, then, I meant something too. Yes, smaller than the smallest, I meant something too. To God, there is no zero. I still exist."

In your vast majesty of creation, Mr. Matheson, you still exist. Your words shall continue to breathe life into this often drab, mortal plane of creative thought and energy for as long as meaning and beauty endure. To God, there is no zero. You shall ever continue to create...in our hearts, and in our thoughts. Rest well, for true existence has only just begun...Somewhere In Time.

--Steve Vertlieb"

And this other one, beautifully expressed:

"Sometime last year while channel surfing I flipped to a repeat of FAMILY GUY just in time to see the credit flash onscreen 'based on a story by Richard Matheson'. I think I scared the neighbors with my joyful shout of disbelief. Even FAMILY GUY knows!

This one hurts, really hurts. 1950s, '60s, '70s, '80s, all through what I guess you could call the Best Times for Monster Kids, Matheson was there. You saw his name, you knew. You smiled. Maybe your heart even beat a little faster. And you watched.

I loved his short stories and novels, but his name on a movie, or a TV episode, that was really something. Once you realized his name kept showing up on your favorite movies, TV episodes, you wanted to shout that name to the heavens-- you wanted to let your friends know that he was the guy who wrote that TWILIGHT ZONE or STAR TREK or DUEL, or... For Richard Matheson you wanted to be an apostle."

Many more are here (where those above, appeared):
http://monsterkidclassichorrorforum.yuku.com/topic/50353/Richard-Matheson

?in going to the above link, you will be very moved to see how profoundly Matheson's works touched people, for decades. His works thrilled, chilled and made audiences think.

What I think is totally beautiful is that Richard is probably the ONLY writer ever to bridge, with the gamut of his writing, the worlds of science fiction, horror and love/romance/fantasy (--and now a stage Musical--) in such a way as to inspire Passion for his works.


Though many of his novels, short stories, TV programs and movies are beloved by fans everywhere, Somewhere in Time is the only one that has inspired a Fan Society, and annual events to honor and celebrate it.

Our sympathies and condolences are sent to his wife Ruth, and the entire Matheson family.

It is very sad that Richard did not get to see the Somewhere in Time Musical, in its World Premiere in Portland. But it hopefully will become yet another revival of his creations, that will live on into the distant future.

Farewell, Dear Richard?we will miss you, but continue to cherish and laud your works.

Friends -- You are invited to send me posts of your feelings on Matheson's passing for possible inclusion in the INSITE fan society publication. 1st Quarter 2013 INSITE issue will include a tribute article to him.

Yours in time,

Jo Addie
INSITE President/Editor
---
Farewell to Somewhere in Time's "Dr. Hull", Paul Cook
We have lost another of our SIT Family...I am sorry to report that Paul Cook ("Dr. Hull") passed away on Saturday, March 16. He was 84. He had suffered a stroke a few years ago, and had broken his back twice, due to falls at home. According to his obituary in the St. Charles Patch he died after a long bout with Parkinsons.
Paul was always a bit hit with fans at the Somewhere in Time Events. He always had a joke, or a funny story to share. Since he has been unable to attend, he was very much missed. Paul loved to play on his Dr. Hull character. I remember the night the fire alarm went off at Grand Hotel at about 6 am. Everyone was opening their doors and stepping out into the hallway to assess whether or not we needed to evacuate the building. I saw Paul going from door to door, in pajamas, bathrobe and slippers, offering to check pulses of the ladies! He was such a funny guy! (Turns out someone had started a bath and then fallen back to sleep, the water overflowed through the walls somehow, and set off the fire alarm -- at least that was the explanation that went around?) But I'll never forget how quickly Paul went into his doctorly 'bedside manner' to the sheer delight of the guests!
Paul was indeed multi-talented. He was not only an actor in Chicago and Detroit, but an acting teacher, having founded the TV Actors Studio in Chicago with his wife, Sue Knutsen-Cook. He was an accomplished composer of music and also an author, staying busy in his later years in both these creative avenues. Please see the impressive details of his careers in film, music, and as a writer in the link below.
INSITE is sending condolences and flowers on behalf of the members, to his wife Sue Knutsen-Cook, his three sons, daughter and stepdaughter.
Here is the link to the obituary.
Paul was very proud of his connection with Somewhere in Time. When I met up with him in 1992 at an audition we were both on in Chicago, and told him about our SIT fan society and our annual events, he was overwhelmed that so much adulation for the movie had been ongoing. From that point on, he was an enthusiastic participant in our events. The SIT Weekends (and the two events I held to honor the film in Chicago, 1997, 2000)) were highlights of his life. He very much appreciated the many friendships he formed with INSITE members and fans. We have the SIT Event DVDs to remind us of his delighted attendance in our celebrations and his considerable contributions to our fun? Thanks, Paul, for the memories!
Yours in time,

Jo Addie INSITE President/Editor
---
ANNOUNCING THE WORLD PREMIERE OF
SOMEWHERE IN TIME: THE MUSICAL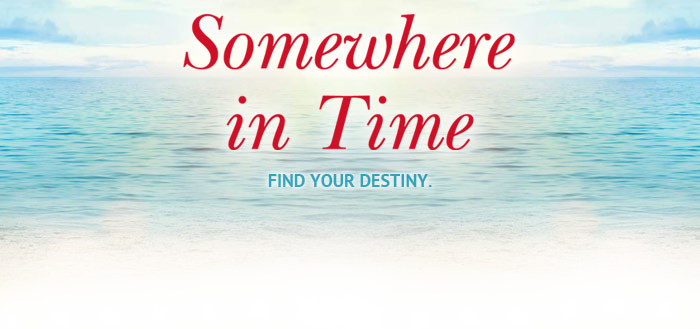 Hello Somewhere in Time fans,
The day you've been waiting for is almost here - Somewhere in Time: The Musical will have its World Premiere next spring at Portland Center Stage, Portland, OR!
Be one of the first to see this modern classic leap to life on stage. Tickets are now on sale at SomewhereInTimeTheMusical.com.
You can also read more about the production over at Librettist Ken Davenport's blog.
We can't wait to share this beautifully romantic musical with you. Get your tickets today.
Somewhere in Time Fan Society (INSITE) President Jo Addie says, "Buy your tickets quickly! First four nights are nearly sold out. You may also want to sign up on www.somewhereintimethemusical.com to receive periodic updates from Ken Davenport."
When we first announced there would be a stage musical of Somewhere in Time in INSITE in 2006, it was hard to contain the excitement of this outstanding development for our favorite love story. Now, we can tell everyone that the musical's World Premiere is just months away, and even buy tickets! This production is a marvelous way to rekindle interest in our film, Matheson's novel, and could be a Somewhere in Time 'revival' extraordinaire! The next step in SIT's marvelous legacy...
Ken has chosen Portland Center Stage to premiere his production, and plans are ongoing as to the next location, on its eventual way to Broadway.
No doubt INSITE members will be there in their period attire, wherever the play is presented!
(And with 'bells on our toes'!)
Yours in time,
Jo Addie
INSITE President/Editor
Follow Somewhere In Time The Musical on Facebook
Follow Somewhere In Time Musical on Twitter
Sign Up For SIT News Email Service!
See Us In Person at Antique Shows!
---
Dates for the next Somewhere in Time Weekend: October 4 - 6, 2013
Contact Grand Hotel for reservations and information.
---
Christopher Plummer Wins Best Supporting Actor at 2012 Academy Awards!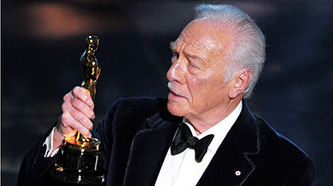 Christopher Plummer Wins Golden Globe Award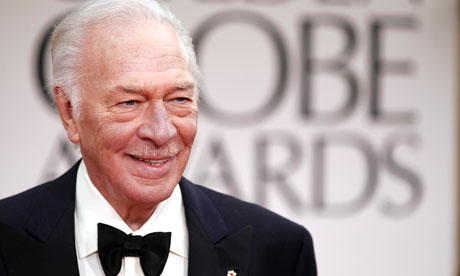 We heartily congratulate Mr. Plummer on receiving the Academy Award for Best Suppporting Actor, and the Golden Globe Award for his performance in "Beginnings". His role as a newly widowed father of Ewan McGreggor's character discovers he is gay after his wife of 50 years passes away. Certainly a ground-breaking role for him. He continues to receive accolades and is in high demand in films in his mid 80s. His most recent film role is in "The Girl With The Dragon Tatoo".
---
World renowned pianist Roger Williams passed away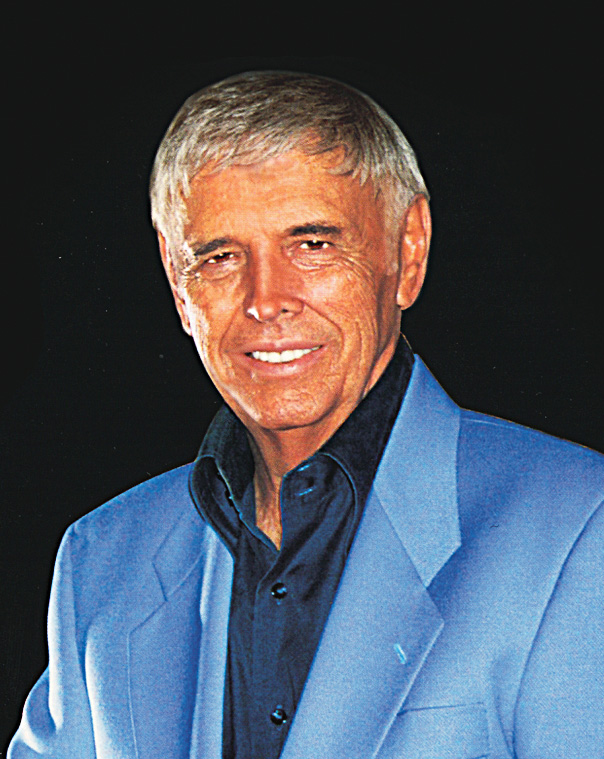 Mr. Williams played John Barry's SIT theme during the end credits of our film. His lush performance supplied perfect punctuation to our beloved movie.
He was battling pancreatic cancer. He was 87 and died October 7, 2011
We had contact with Mr. Williams and published an article about him in INSITE Magazine in 2010, with which he was very pleased. He practices over 12 hours a day and knew over 10,000 songs by heart
---
SIT Composer John Barry Dies at age 77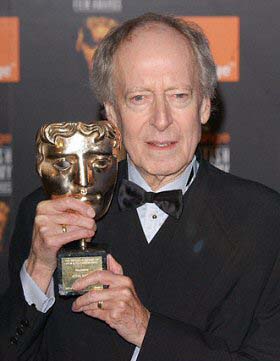 We have lost another precious Somewhere in Time creator...John Barry, British composer of the original music soundtrack for Somewhere in Time, died of a heart attack January 30, 2011, at age 77. John's passionate work on the SIT score (which came on the heels of the loss of both of his parents) added so much to the film's emotional impact, it is impossible to quantify the repercussions had he not been the one to score the film.
He was an incredible talent, and leaves behind an awesome legacy of masterpieces, including the James Bond film scores and Dances with Wolves, Out of Africa, and Born Free. His score for Somewhere in Time remains his best-selling work. He won 5 Academy Awards.
Please see the Music of John Barry on our website: we highly recommend this marvelous CD (click for more info):

Dear Friends and Somewhere in Time Fans,

***With sadness, I bear the news that we lost our beloved Bill Erwin, "Arthur" on Dec. 29. He was 96.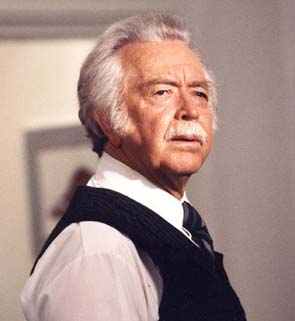 Bill had suffered a decline since Sept. He was in the advanced stages of dementia, however, he was in no pain and no discomfort, and died peacefully in his sleep, surrounded by his family--and at home.
He had turned 96 on Dec. 7.
Bill was the favorite celebrity of so many attendees of the Somewhere in Time Weekends, because of his great wit. He would have people howling with laughter at his unexpectedly bold remarks, often poking fun at himself,
referring to himself as a 'prop-up comic' and blurting out such one liners as, "I'm one match away from cremation." He loved words, had a phenomenal vocabulary and enjoyed plays on words.
Bill would often 'hold court,' sitting in the Parlor of Grand Hotel, or on the Porch when the weather permitted, with fans gathered 'round him..regaling them with stories of his life and career. And also stories of making the movie. He was on hand for the entire filming of Somewhere in Time, spending 7 weeks on Mackinac Island.
Bill Erwin was so memorable as "Arthur", an impactful character, providing clues and proof that Richard Collier did in fact, travel back to 1912, that it wasn't just a dream or fantasy. He also had the last on-camera line in the movie, "Such a fine man. I wonder what happened to him." It was Arthur who, regarding The Portrait, declared in an unforgettable tone, "That's Elise McKenna!" Arthur furnished the final important detail providing Richard the conviction he needed to accomplish his time travel journey. When Collier begs to know where the Hall of History artifacts and hotel registers come from, Arthur, awakened by Collier's insistent pounding at his cottage door, says, "In the attic, Mr. Collier." Bill used to tease us saying, "I arranged my own hair for that scene."
We have posted Bill Erwin's obituary from the L. A. Times below.
We have also posted our interview with Bill from the SIT Event DVD #1...on YouTube...which I hope you will go and see.
Bill Erwin Interview on YouTube
He appears in top form, entertaining us on our SIT Event DVDs, #1, #2, #4, #5, #6 and #7. (SIT Event DVDs are very popular--and available online, in our SIT Website shop, Video/DVD section.)
He attended 15 Grand Hotel SIT Weekends and SIT events in Chicago and Los Angeles. From 1990 to 2006 he attended all but 1994's event, because he was working on a film, Dennis the Menace. His last visit with us was at the age of 91, in 2006, when we made a special point to honor him. Imagine a nearly 92-year-old man making the journey from CA to Mackinac Island...but Bill looked forward to the annual SIT Weekends with great enthusiasm, contending they "recharged his batteries," and were "the highlight of my year." That memorable Saturday evening we provided him a cake with candles and the entire audience of 600+ sang an early Happy Birthday to him, commemorating his 92nd year milestone two months in the future.
Bill Erwin's website has had over 15,000 hits Tuesday, as the entertainment media picked up on his passing...Variety, Yahoo, Hollywood Reporter, and Google news. Bill would have been thoroughly delighted at the outpouring of love.
http://www.bochynski.com/billerwin/
William Lindsey Erwin was born 2 December, 1914, to Lee Eugene and Ida Mae
Erwin in Honey Grove,Texas, a town founded by his 2nd great-grandfather,
Samuel Augustus Erwin.

Bill married Frances MacLachlan 10 January 1948 in San Gabriel Mission, CA. They met
while working onstage at the Pasadena Playhouse.

The Erwins had four children: two sons, Michael and Timothy; and two
daughters, Lindsey and Kelly. Bill and Fran Erwin had seven grandchildren.
Fran Erwin predeceased her husband in September 1995. The couple shared more
than 47 years of marriage.
We will most certainly miss him, but he will never be forgotten....See ya around, Arthur.
Yours in time,
Jo Addie
---
Bill Erwin 1914 - 2010

(from the LA Times, 1/1/11)

Bill Erwin, 96, a veteran character actor remembered for his role as Arthur the bellman in the 1980 fantasy film "Somewhere in Time" and his Emmy-nominated guest appearance on "Seinfeld," died Wednesday (December 29) at his home in Studio City of age-related causes, his son Mike said Friday.

Erwin had a long-running career in film, television and theater with dozens of roles in episodic TV. He was nominated for an Emmy Award as outstanding guest actor in a comedy series in 1993 playing the cranky Sid Fields in a "Seinfeld" episode titled "Old Man."

He also had roles in the TV series "Growing Pains," "Gunsmoke," "Highway to Heaven," "Perry Mason," "The Golden Girls," "Twilight Zone," " Zane Grey Theater," "Who's the Boss?" and many more.

Erwin became a favorite of the devoted fans of "Somewhere in Time," the romantic time-travel drama starring Christopher Reeve and Jane Seymour, and he was featured in a documentary accompanying the film's 20th anniversary DVD.

William Lindsey Erwin was born Dec. 2, 1914, in Honey Grove, Texas, and earned a bachelor's degree in journalism at the University of Texas at Austin in 1935.

He studied acting at the Pasadena Playhouse and performed there and at the Laguna Beach Playhouse and La Jolla Playhouse beginning in 1940.

Erwin continued acting on local stages over the decades and received a Los Angeles Drama Critics Circle Award in 1983 for his performance in "Old Friends" at the Actors Forum.