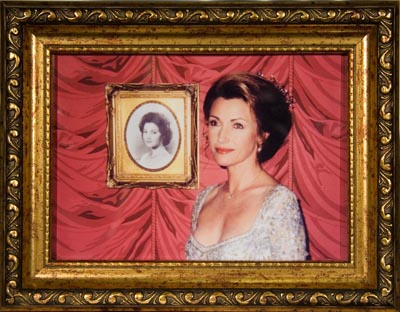 Jane Seymour by The Elise Portrait, "doing" the Elise Portrait
This amazing photograph, of Jane Seymour standing next to the Portrait of Elise, was taken in 2002, when Jane attended the Somewhere in Time Weekend at Grand Hotel. The photo is extraordinary for many reasons, not the least of which is that the background is red 'fabric', just like in the Hall of History where the key prop portrait hung in the movie, Somewhere in Time! Who could have imagined that this marvelous moment could be captured in such a memorable and meaningful way! Photo copyright by Jo Addie. 5 x 7 in Gold Frame, with easel back, or can be hung on the wall. An incredible image!!!
$65, plus 8.50 s/h. Email to purchase
RARE! Somewhere in Time Original Japanese Flyers
I am so happy to be able to offer these! I am a collector of the foreign posters of SIT, which are all considered rare, and my favorite is the artfully designed and colorful Japanese poster. It is so lovely, featuring the moment before Richard first kisses Elise--The Most Romantic Kiss in Movie History!--and these flyers are really Mini Japanese SIT Posters, with cool Japanese writing and a photo in black and white on the back! (10 inches long and 7 1/4 inches wide--fits in 8 by 10 frame) Note the scene on the bottom, with Richard assisting Elise out of the carriage near the gazebo.
I'm not sure they still do this, but the Japanese printed up not only flyers, like this, but programs for movies (the Japanese SIT program is extremely rare). Flyers were given out at theatres. Because Somewhere in Time was anticipated to be a big hit there, they really went all-out in presenting this film on its release. The movie is so beloved--even revered--all along the Pacific Rim...it is amazing that I was able to acquire several of these flyers, uncirculated and in perfect condition.
I recommend that if you frame your copy, you use double glass, so you can turn it over and see the back-side whenever you like.
I have a limited supply, so if you want one of these, don't wait.
Beautiful poster of an original painting by artist Yvonne Della-Moretta (who was also an extra on "Somewhere in Time"). Yvonne owns "The Gold Mine" jewelry store in St. Ignace, MI. She did this homage to Mackinac Island's symbol flower, and "Somewhere in Time" depicting The SIT Pocket Watch (available here). High quality poster stock. 18x24 (standard size for easy framing)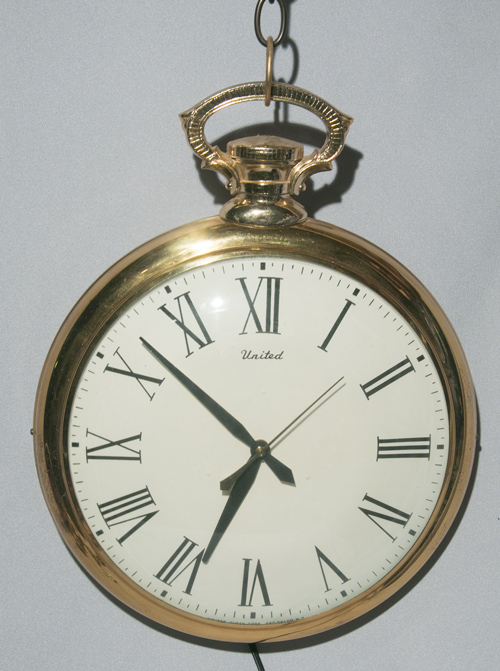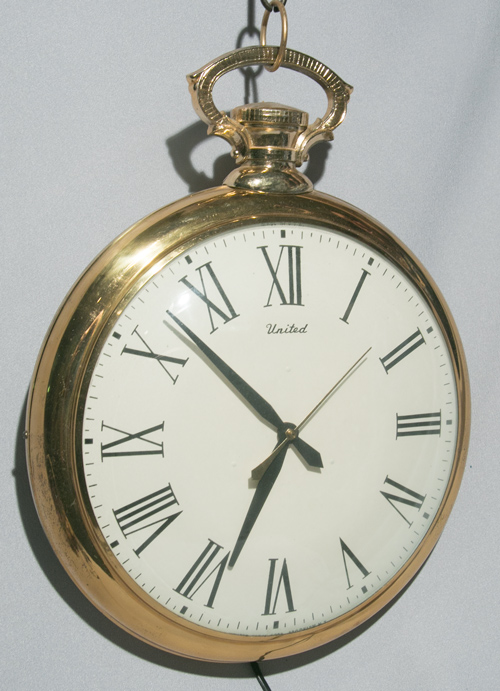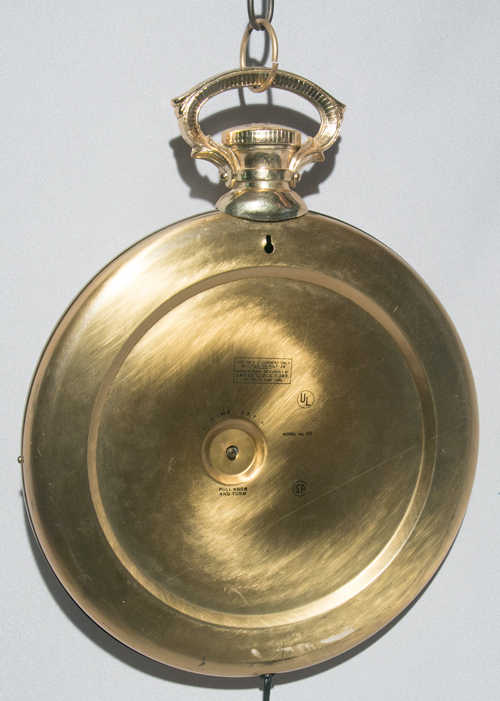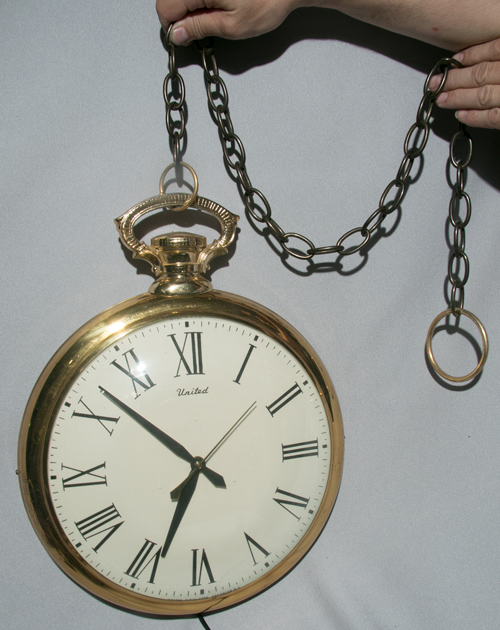 Large Vintage Electric Pocket Watch Clock, by United

These are so cool! A large pocket watch-shaped clock in a rich gold tone. A fully 3-dimensional pocket watch case in a golden hue metal. This dates to the late 50s/60s. Working well, and in very good condition. No flaws to report. The face of the watch clock measures 11 inches in diameter, so the time can be read from a good distance…and from top of stem to bottom it measures 17 inches. Hang the chain and ring in a swag configuration on the wall too, to make a nice statement in your room!
Price $70, plus $18.50 s/h Email to purchase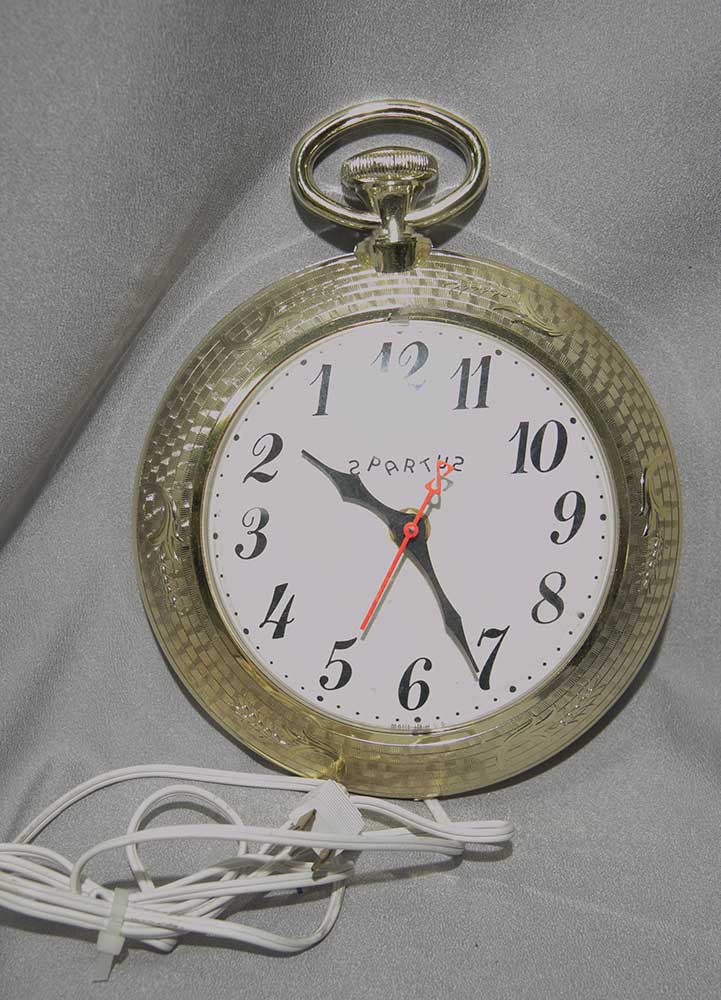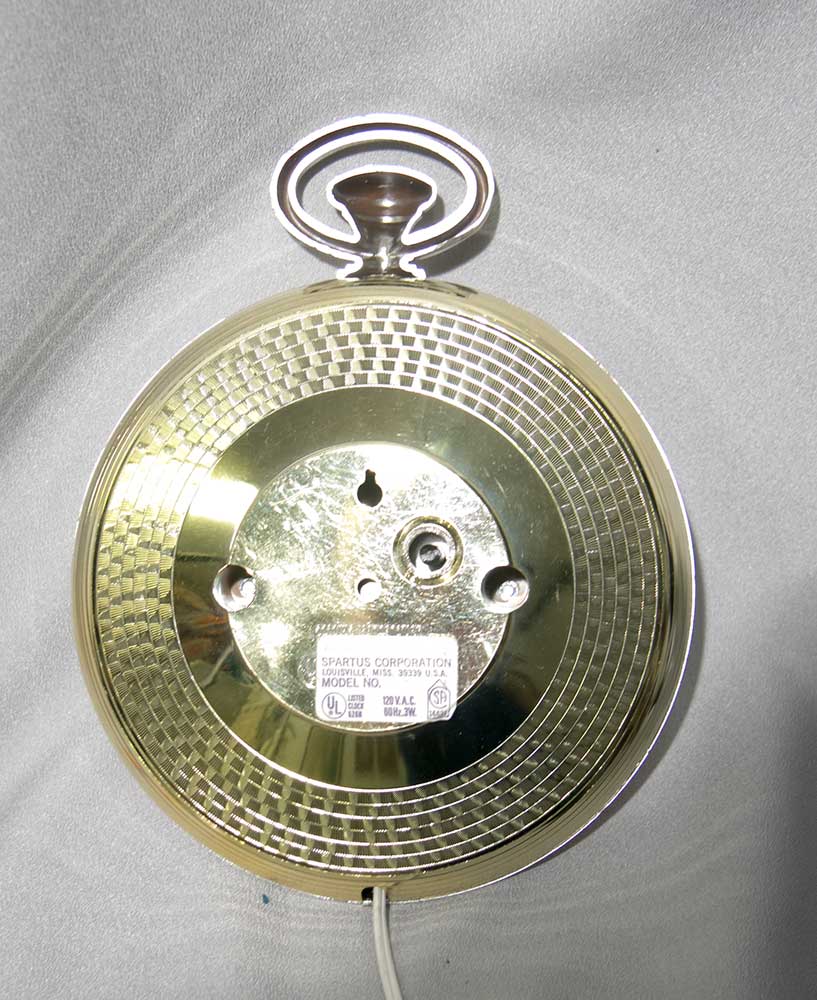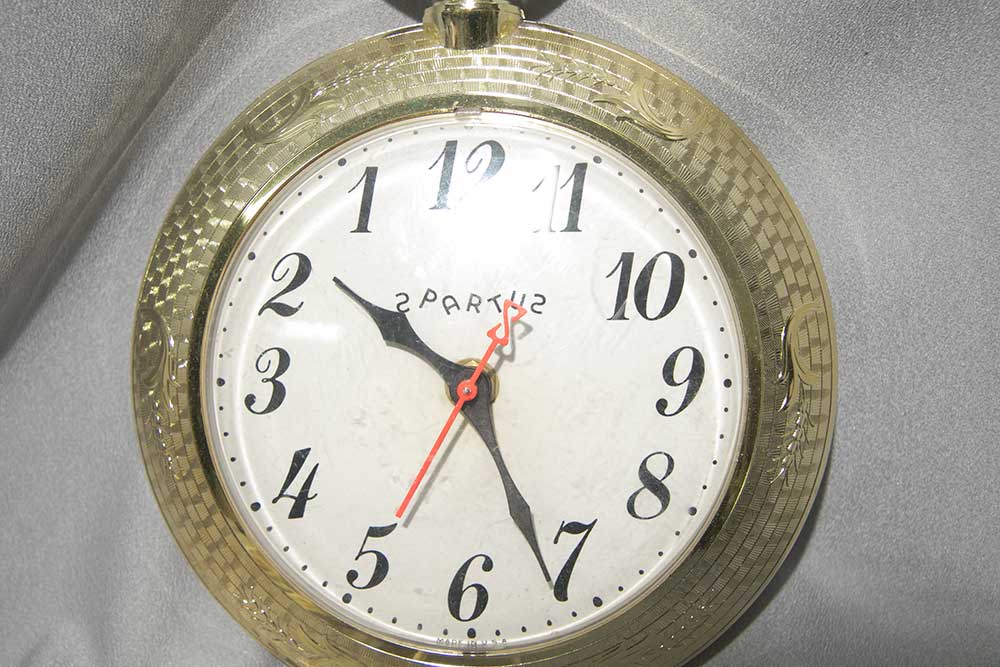 Fun Pocket Watch Clock – Go back in time!

This is a novelty electric Pocket Watch clock from the 60s. The numbers are reversed, so it appears to be going backwards in time. It is made of plastic in a shiny textured bright gold finish. You will quickly learn to read the time on this clock, because the numbers are reversed but it still tells you the time. Very clever! Measures approximately 9 inches top to bottom, with a face that is about 5 inches in diameter.

Price $25, plus 9.50 s/h Email to purchase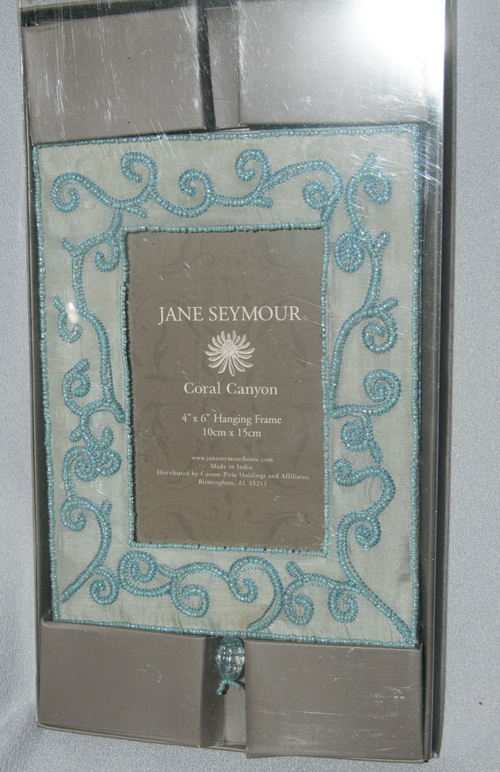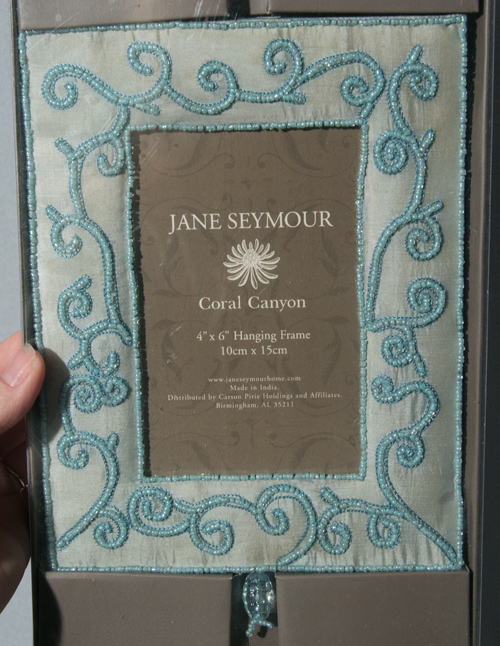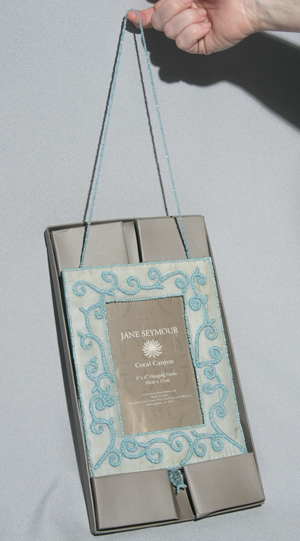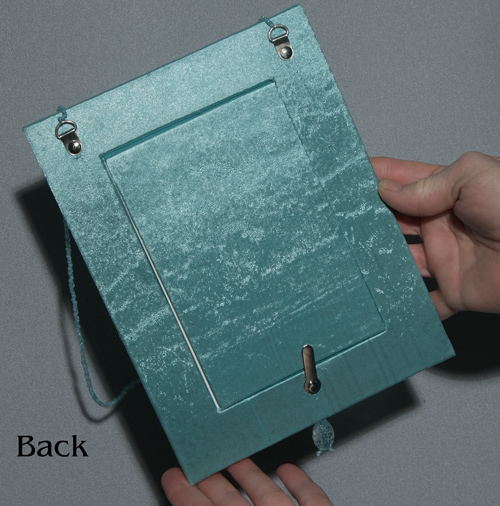 Jane Seymour Signature Line Beaded Silk Frame in original box, Coral Canyon line.

This pretty photo frame is from Jane's home décor line she called Coral Canyon, after the location of her own home in Malibu. She did 3 home décor lines for the department store chain (Boston Store, Caron Pirie Scott, Parisian) some years back. This was purchased by me but has never been out of the box, until I just photographed it. It's a nice frame to hold a 4 by 6 photograph. It is a hanging frame, so it has a beaded strand to hang it on the wall. Soft shades of aqua and a soft, pastel sage green beaded silk. The beads are a pearly aqua, and the scrolling design is very graceful and feminine, just like Jane.

Overall, the frame measures 6 1/2" x 8 3/8". The opening measures 3 3/8" x 5 1/4".

Price: $18, plus 9.50 s/h Email to purchase
---