Jane Seymour Attends 2002
Somewhere In Time Weekend
By Jo Addie
Jane Seymour journeyed to Grand Hotel, Mackinac Island, to join fans for the 12th Annual Somewhere In Time Weekend (October 25-27, 2002). The always-extraordinary event which draws SIT fans from around the world to celebrate "The Most Romantic Love Story Ever Filmed', was super-charged by Jane's visit. It was her first time back to the location of the movie since filming wrapped in 1979. Read the just-published 4th Quarter issue of INSITE Magazine, 32 pages and over 80 photos!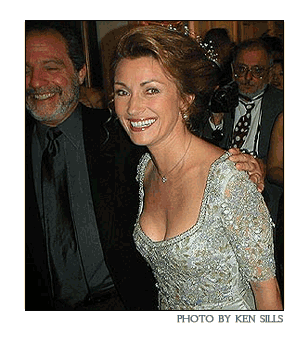 Jane displayed her paintings in the hotel's art gallery, and was signing a special poster of one of her Monet-like compositions, made just for the event. 50% of the proceeds for the sale of these posters went to The Christopher Reeve Paralysis Foundation. She visited the "Is is You?" plaque at the lakeshore site of the famous scene where Richard meets Elise for the first time in 1912. The plaque is a permanent monument to the film, sponsored by the INSITE fan society in 1993. INSITE has also sponsored the Star on the Hollywood Walk of Fame for Chris (1997) and co-sponsored a Star for Jane (1999).
Jane also participated in The Costume Promenade, (always a photogenic affair), as the majority of guests are decked out in period attire for the Saturday evening festivities. She was a vision of loveliness, wearing a glittering Escada gown, with her hair coiffed like Elise . . . what a marvelous opportunity to see our beloved Elise in person!
The highlight of the evening was the electric moment when Christopher Reeve called in by phone from NY to speak to the over 850 in attendance! It was a huge surprise, and the audience roared with cheers and applause! Many had tears in their eyes, witnessing the two stars speaking to each other in their presence. Later in the program Jane came to the stage to answer questions for about 30 minutes and she performed her "Man of My Dreams" soliloquy - the key scene in the film - to everyone's great delight.
The next morning, Sunday, Jane signed more autographs in the Parlor and gave a farewell message before leaving the island. She has been invited for all previous 11 annual SIT Weekends, but always had conflicts in her schedule. How extraordinary it was for all that she was able to make it this time!
A video of this amazing event has been produced so you can soon enjoy every special moment. The video is available via our Gallery and is available for purchase.. Order your copy today!
Christopher Reeve attended the 1994 SIT Weekend, seven months before he was injured. A fabulous video of his visit with SIT fans is available through The Somewhere in Time Gallery collectibles line.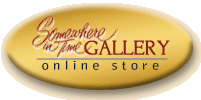 Visit our online store to purchase "Christopher Reeve Returns to Mackinac", a special 2-hour video. Both stars attended The New York Premiere of Somewhere In Time, at which the 20th Anniversary Collectors' Edition DVD was released. (See Events page for details.)